CERES GmbH evaluation & research is a successful and growing company in southwest Germany. We organize and conduct clinical investigations for medical device manufacturers, provide medical writing services, and performe clinical evaluations for medical devices.

Our employees obtain responsibility appropriate to their position. Self-reliance, preciseness as well as friendly and respectful treatment amongst colleagues and with executives characterize our company culture. We encourage our employees to contribute to a steady improvement of our company.
---
Vacancies (m/f/d)
To work at CERES, academic or work experience relevant to clinical research with medical devices, the ability to work well both independently and with a team, excellent communication skills, and fluency in both English and German are essential. Fluency in other European languages is desirable.
If you would like to work with us, please send your complete application (cover letter, CV, relevant documents) to info [AT] clinical-evaluation.com

.
---
---
Medical Writer
Your tasks
Editing and review of medical device documentation
Creation and editing of study-related documents and registration dossiers. These include: clinical investigation protocols, investigator manuals, final reports, applications at competent authorities and ethics committees, etc.
Participation in and preparation of clinical evaluations for medical devices
Research as part of the projects
Project planning
The full job advertisement is available here: Medical Writer .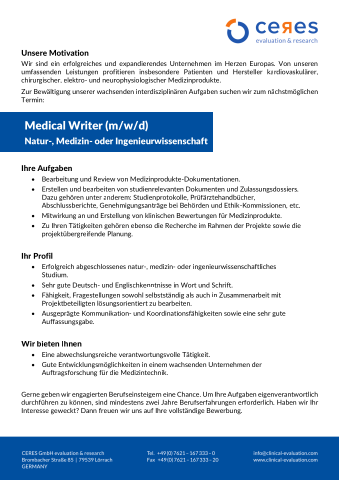 ---
---
---
Clinical Research Associate
The full job advertisement is available here: CRA .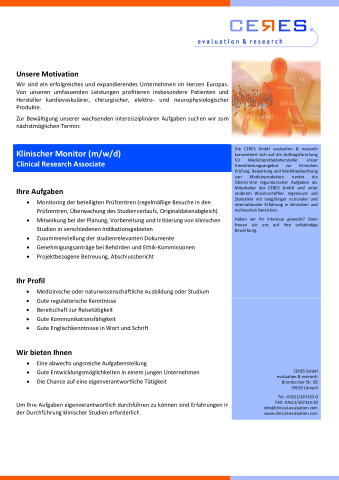 Your tasks
Source data verification in the participating sites
Site initiations and close outs
Participation in the planning, preparation and initiation of clinical investigations in various indication areas
Compilation of the study-relevant documents
Applications to authorities and ethics committees
Project-related support
---
---
Data Analyst
Your tasks
Planning and implementation of data management for clinical investigations according to MDR requirements.
Identification and solution of operational problems / processes in order to reach study milestones promptly and appropriately.
Ensuring data quality, consistency and integrity.
Analysis of the consistency of study data and results.
Data transfer and reporting.
Conception, creation and validation of study databases.
Realization of case report forms (CRFs) according to the test plan and SAP.
Coordination of data management.
Participation in clinical studies in cooperation with project management, monitoring and biometrics.
Cooperation with clients, external experts and the development of customer and product-specific solutions.
The full job advertisement is available here: Data Analyst .